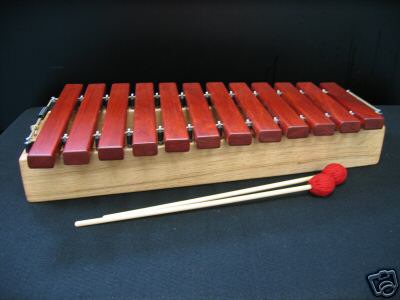 I bought this on Ebay. Here are the specs from the Ebay ad:
New Diatonic Marimba with Solid Oak Resonator Box

(Includes one pair of yarn mallets)

12 Padouk Bars crafted by Salazar Fine Tuning

Range: A4 - E6, A=440

( A, B, C#, D, E, F#, G#, A, B, C#, D, E )

Bar Sizes: Width: 1 1/2" * Thickness 7/8"

A4 bar length: 13" * E6 bar length: 9"

Bars are double octave tuned A4 through E5

Beautiful Resonator box made of 3/4" solid quarter sawn oak (not plywood)

Instrument measures 25 1/2" long by 13" wide by 4 1/2" tall

Instrument weight: 9 lbs.
This is my first marimba. It has a very nice, quiet tone. I'm really enjoying playing it.